Support Equipment
STRETCH CORNER
Keiser's Stretch Corner is capable of accommodating numerous stretches while occupying minimum floor space. With a footprint of only 24 sq ft/2.2 m, it not only fits almost any facility, but also takes up less space than four people would lying on the floor. You can actually regain valuable square footage. Backed by a 10-year structural warranty, the Stretch Corner is built to take years of hard use.
---
SPECIFICATIONS
Height

79.5" / 2019 mm

Width

63" / 1600 mm

Length

54" / 1372 mm

Weight

180 lbs / 82 kg

Working Space

8' x 6' / 2.4 m x 1.8 m
FEATURES
Supports multiple users
Supports multiple stretches
Displays informational stretch placards
Accommodates up to 4 users at a time
Keiser Demo Van
We'll bring the
power of Keiser

to you
DEMO UP TO 7 MACHINES IN 60 MINUTES –
AT YOUR FACILITY.
Request a visit from our NEW Keiser Demo Van and "Demo the Keiser Difference" – in the convenience of your own facility. In just one hour, you and your team can try out as many as seven Keiser machines, including Strength, Functional and Cardio.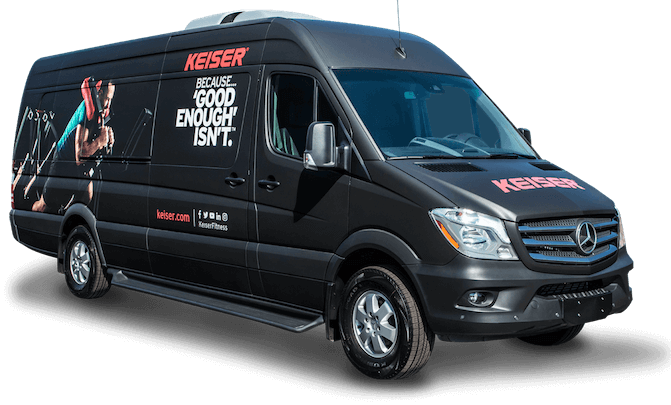 TALK TO A SALES REP TODAY
+1 559 256 8000 Speak to a sales representative