We relentlessly pursue solutions that
Push the limits of fitness science
Because …
'Good
Enough'
Isn't.™


Dennis Keiser
Meet the man behind the machines
Multimedia
Keiser Video
Keiser vs Status Quo
Keiser vs Status Quo
M3i Indoor Bike
M3i Indoor Bike
M7i Wheelchair-accessible Total Body Trainer
M7i Wheelchair-accessible Total Body Trainer
Keiser Manifesto
Keiser Manifesto
Keiser Demo Van
We'll bring the
power of Keiser

to you
DEMO UP TO 7 MACHINES IN 60 MINUTES –
AT YOUR FACILITY.
Request a visit from a NEW Keiser Demo Van and "Demo the Keiser Difference" – at the convenience of your own facility. In just one hour, you and your team can try out as many as seven Keiser machines, including Strength, Functional and Cardio.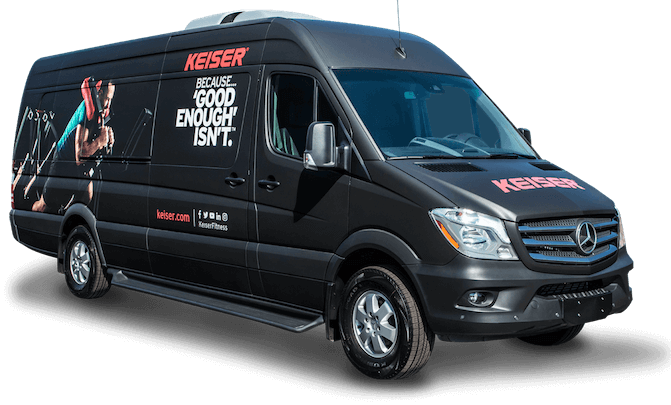 Keiser machines are the number one choice for rehabbing athletes.
Product Innovation
Keiser M Series Bike
Keiser M Series Indoor Bikes revolutionized the world of group fitness when they came on the market over two decades ago, and have set the standard for the category ever since. The first bike to use eddy current magnetic resistance and an aluminum flywheel, the M Series continues to offer users and owners innovations that improve the group cycling experience.
Read More
Shop for Home