M Series Cardio
M5i STRIDER ELLIPTICAL MACHINE
With the success of the Keiser M3i Indoor Cycle and the creation of new programming for elliptical trainers, demand soon developed for a unique piece of Keiser cardiovascular equipment. Our solution: the Keiser M5i Strider, an elliptical machine designed to offer an effective group training option, while still offering the same unique benefits that made the M3i a success. Because the M5i Strider is easy to use, small and portable, it is designed for group elliptical training, one of the newest and hottest trends in the industry today. Group elliptical classes are becoming increasingly popular in Europe and with our new M5i Striding program we make this fun and effective fitness movement available to all.
---
LOWER BODY. UPPER BODY. ANYBODY.
THE COMPLETE WORKOUT
"Whether at the gym or at home, the Keiser M5i Strider is sure to take your workout a step ahead."
With the Strider, you stand up, so there's no uncomfortable seat, and it promotes better posture
The Strider works the lower body AND upper body for a more complete workout
Revolutionary new display and Bluetooth technology for a connected group fitness experience
Dual Placement Stationary Handles make it easy to find the perfect workout position
Simple height adjustment pull-pin, so multiple users can get on and go
Eddy current (magnetic resistance) system for smooth motion
Infinite resistance adjustments to help users find the perfect workout
---
"THE ULTIMATE EXERCISE MACHINE!"
AVERAGE RATING
5
4





4 Reviews
11/08/2018
Verified Purchase





MKSTRIDES
The Ultimate Exercise Machine!
, Chicago, IL
Got this elliptical machine for its hearty design and light footprint in my home office. The convenience of having it readily available makes it so much easier to squeeze in a fully body workout around busy schedules. Since we purchased, we moved and this equipment motivated us to build out a home gym. Add the Keiser Performance Trainer, some dumbbells and a foldable bench and we are fully equipped in a compact space!
Read More Reviews
---
SPECIFICATIONS
Height

63.5" / 1320.8 mm

Width

22.5" / 736.6 mm

Length

49" / 1219.2 mm

Weight

131 lbs / 51 kg  
FEATURES
Bluetooth® Wireless Technology
Easy Transport
Water Bottle Holder
Loose Items Tray
Dual Placement Stationary Handles
Padded Moving Handlebars
Adjustable Height
Anti-Slip Belt
Non Wear Magnetic Resistance
Easy to Install
Infinite Resistance Adjustments
Smooth Resistance Shifter
Intuitive M Series Computer
Includes a standard media holder and stretch pads
---
FREQUENTLY ASKED QUESTIONS
How is an elliptical machine different from a stationary cycle?
Is the M5(i) Strider different from other elliptical machines?
What is the stride length on the M5(i)?
What is the height and weight limit on the M5(i) Strider?
Can I order in a custom color?
Can I train heart rate on Keiser M5i?
Which heart rate monitors are compatible with Keiser M5i Elliptical Machine?
How does Bluetooth® wireless technology work on the Keiser M5i Elliptical Training machine?
Are there differing commercial and residential versions of Keiser M5i?
Are there used/refurbished Keiser M5i elliptical machines available?
Do you offer payment plans?
What is the warranty for Keiser M5i?
Will my Keiser M5i require assembly?
How long will it take to receive my Keiser M5i after an order is placed?
What if my elliptical machine is damaged during shipping?
Are there other shipping options available?
Does the M5i include a media holder?

Does the M5i Elliptical Machine require an electrical source?
Keiser Demo Van
We'll bring the
power of Keiser

to you
DEMO UP TO 7 MACHINES IN 60 MINUTES –
AT YOUR FACILITY.
Request a visit from a NEW Keiser Demo Van and "Demo the Keiser Difference" – at the convenience of your own facility. In just one hour, you and your team can try out as many as seven Keiser machines, including Strength, Functional and Cardio.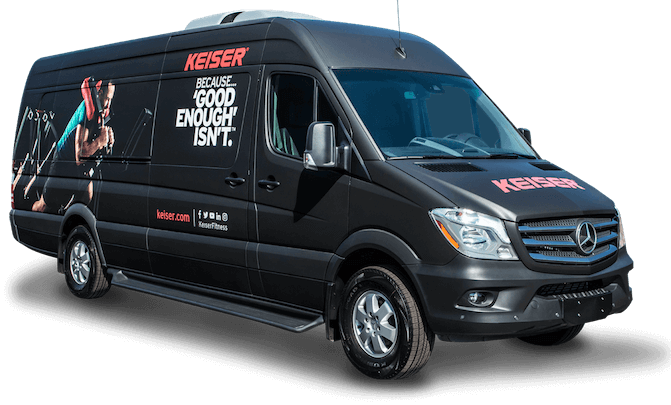 COMPONENTS
ACCESSORIES - STANDARD
ACCESSORIES - OPTIONAL