M Series Cardio
M3i INDOOR BIKE
More than 20 years ago, Keiser set out to create an exercise bike that would exceed the demands of indoor group cycling: An indoor bike that fits riders of all body shapes and sizes; a bike that achieves a quiet — but true — road bike experience inside your gym or home; and the ONLY stationary bike built in the United States to ensure the tightest quality control. And we accomplished it all with the Simplest of Engineering Designs.
---
RIDER. OWNER. TECHNICIAN.
DESIGNED AROUND YOU
The Keiser M3i is the industry's only indoor group cycling bike built entirely around YOU – that's YOU the rider, YOU the gym owner and YOU the service technician. Game-changing features on the M3i include:
V-shape frame to accommodate all riders
Rear-wheel design for protection from sweat and corrosion
Magnetic-resistance technology for greater repeatability and reduced wear
Quiet, reliable and low-maintenance single-belt drive train
Revolutionary re-designed Keiser Bike Pedal
Bluetooth® wireless signal for open API for tablets and smartphones
---
13 THINGS TO LOOK FOR WHEN BUYING AN INDOOR GROUP CYCLING BIKE
THE BIKER'S DOZEN
Who exactly should an indoor group cycling bike be built for? It shouldn't be built for riders. Or gym owners. Or maintenance technicians. Rather, a truly great bike should be built for all three. But how can you tell? Download The Biker's Dozen to find out.
---
KEISER INDOOR BIKE COMPUTER
ALL THE DATA YOU NEED ON A SINGLE SCREEN
We designed the M3/M3i Indoor Bike computer to be simple, with everything a rider needs to know on a single screen. This includes RPM (Revolutions Per Minute), Power and Energy (Watts and Kilcalories), Heart Rate, Elapsed Time, Gear and Trip Distance. Additionally, the back-lit display turns on when the room light drops below a set level and – unlike other indoor bikes – remains on.
---
PUSHING PAST INDUSTRY LIMITS
KEISER M SERIES BIKE PEDAL
With our game-changing bike pedal, Keiser has again revolutionized indoor cycling down to the last detail. New pedal features include:
Stronger bearings tested for static and dynamic loads
Cage integrated into pedal design, not just added on
Ramped barbs for secure and simple foot placement
Curvature eliminating pressure points on the rider's foot
---
SPECIFICATIONS
 Height

45" / 1143 mm

Width

26" / 660 mm

Length

49" / 1245 mm

Weight

85 lbs / 38.56 kg    
FEATURES
Bluetooth® Wireless Technology
Automatic backlit digital display
V-shape frame and handlebar combo to accommodate all riders
Rust-resistant design includes stainless steel hardware and rear flywheel
Quiet, low-maintenance magnetic-resistance belt-drive system
Magnetic resistance delivers road-bike experience and ensures a smooth ride
Lightweight and superior ease of transport
With more than 300,000 M Series bikes sold, there's no more proven bike worldwide
Robust adjustment knobs require less maintenance than cam-lock
Four-way adjustable seat
Water bottle holder
---
FREQUENTLY ASKED QUESTIONS
What is the difference between the Keiser M3, M3i, M3X and M3iX indoor bikes?
Can I train heart rate on Keiser M Series indoor bikes?
Which heart rate monitors are compatible with Keiser M Series indoor bikes?
How does Bluetooth® wireless technology work on the Keiser M3i and M3iX indoor bikes?
Are there differing commercial and residential versions of Keiser M Series indoor bikes?
Are there used/refurbished Keiser M Series indoor bike models available?
Do you offer payment plans?
I have other questions. Is there a number I can call to speak to an actual person?
What is the warranty for Keiser M Series indoor bikes?
Will my Keiser M Series indoor bike require assembly?
What if my bike is damaged during shipping?
I'd love to buy an M3i but I live outside the United States. What are my options?
I placed my order but haven't heard back yet, how can I check the status of my order?
Do you ship to APO/FPO addresses?
*** Does free shipping cover Alaska and Hawaii?
Why are the Keiser M3/M3i bikes designed with a light flywheel? 
Keiser Demo Van
We'll bring the
power of Keiser

to you
DEMO UP TO 7 MACHINES IN 60 MINUTES –
AT YOUR FACILITY.
Request a visit from a NEW Keiser Demo Van and "Demo the Keiser Difference" – at the convenience of your own facility. In just one hour, you and your team can try out as many as seven Keiser machines, including Strength, Functional and Cardio.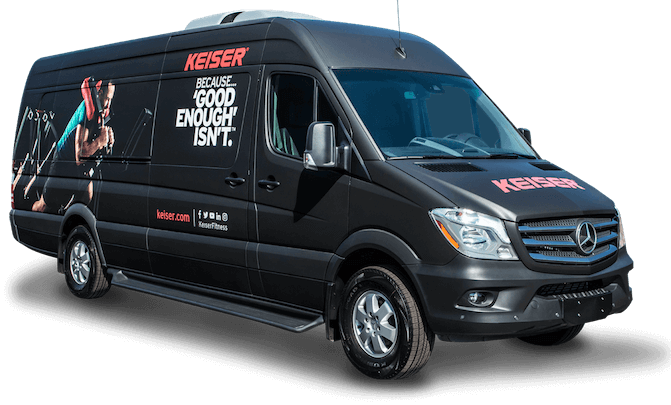 OPTIONS
ACCESSORIES - STANDARD
ACCESSORIES - OPTIONAL