THANK YOU
FOR REGISTERING YOUR INTEREST
Keiser Equipment Offer & Closing Rate Guarantee
Terms and Conditions
Eligibility: The Keiser Equipment Offer (the "Offer") and Closing Rate Guarantee (the "Guarantee") is solely open to health club owners 21 years of age or older who are legal residents of the 48 contiguous United States and D.C. Void in Alaska, Hawaii, Puerto Rico and where prohibited, taxed or otherwise restricted. Offer and Guarantee will collectively be referred to as the "Program".
Provided by: Keiser Corporation, 2470 S. Cherry Ave, Fresno, CA 93706 ("Keiser").
Program Period: The Program will begin on March 22, 2018 and end on May 31, 2018 (the "Program Period").
Offer: During the Program Period, when you purchase 12 pieces of Keiser pneumatic-resistance strength equipment from a selection of 15 machines (outlined in Exhibit A below) you will also receive (i) a free demo station that includes a pull-up banner and Keiser "Warrior" demo machine; (ii) a 6-week training program to share with members; (iii) 300 Welcome Packs that you can distribute to health club members that would like to participate in the 6-week training program. Each Welcome Packet includes a Keiser-branded T-shirt, workout program packet, profile card, fact sheet, and workout cards; and (iv) 1 fitness watch with an approximate retail value of $329 which you may use as a prize to be awarded amongst participants of the 6-week training program. To participate in the Offer, you must purchase 12 pieces of Keiser equipment from the provided package of 15 pieces from an official Keiser sales rep.
Guarantee: If you purchase 12 pieces of Keiser pneumatic-resistance strength equipment from a selection of 15 machines (outlined in Exhibit A below) and don't increase your health club's new member closing rate after 6 months (from date of installation) and would like to return the equipment, Keiser will buy back all of the equipment - guaranteed. Keiser will also cover any/all disassembly costs and transportation fees.
To redeem the Guarantee, current closing ratio must be revealed and agreed upon by both parties [Keiser sales rep and health club buyer] prior to equipment purchase. After 6-month period, if closing ratio stays the same or decreases [i.e. current closing ratio at time of purchase = 62.1%; after 6 months, closing ratio = 61%] then Keiser would buy back the equipment as long as the health club has adhered to all Keiser procedures related to this particular program [i.e. establishing 6-week training program with interested members, utilizing demo station, training health club trainers on Keiser equipment]. Guarantee redemption requests must be received no later than 6 months from the date of equipment installation.
Limit 1 Offer redemption and/or 1 Guarantee refund request per health club throughout the Program Period. Please allow from 4 to 6 weeks to receive a Guarantee refund pending all equipment being returned to Keiser. Sales tax, shipping and installation will not be included in your refund. This Program may not be published in any refund magazine, online or elsewhere, without written permission from Keiser. Guarantee refunds will be provided in the form of a check. Employees of Keiser, and its respective subsidiaries, affiliates, distributors, retailers and advertising and promotion agencies and their immediate family members and those living in their same households, whether or not related, are not eligible to participate in this offer. The health club owner shall bear all risk of loss to the Keiser equipment after it has been delivered to the health club location.
General Conditions: Keiser has no obligation to acknowledge refund Guarantee requests or provide a refund that is not in compliance with these terms. Only original owner of a health club who purchases the Keiser equipment may request a Guarantee refund. Certain other restrictions may apply. Program may be withdrawn or modified at any time without prior notice. In the event of such early termination or modification, a notice will be provided at keiser.com/KeiserChallenge. Keiser and its subsidiaries, affiliates, distributors, divisions, retailers and advertising and promotion agencies and all of their respective officers, directors, employees and agents (collectively, "Released Parties") are not responsible for errors of any kind whether human, mechanical, typographical, printing or otherwise relating to or in connection with the offer, including, without limitation, errors which may occur in connection with the administration of the Program or in any other Program-related materials. Persons who tamper with or abuse any aspect of the Program, as solely determined by Keiser, may be subject to legal action. By participating, you agree to release and hold harmless the Released Parties against, any liability, for any injuries, losses or damages of any kind, including death, to persons, or property resulting in whole or in part, directly or indirectly, from participation in this Program. The Program is subject to all federal, state and local laws/regulations. Keiser's decisions will be final in all matters relating to the Program.
EXHIBIT A
Choose 12 Pieces from our Selection of 15 Strength Machines
AIR 250 Leg Extension
AIR 250 Lat Pull-Down
AIR 250 Seated Leg Curl
AIR 250 Military Press
AIR 250 Abdominal
AIR 250 Triceps
AIR 250 Lower Back
AIR 250 Arm Curl
AIR 250 Standing Hip
AIR 300 Seated Calf
AIR 300 Squat
AIR 300 Leg Press
AIR 350 Seated Butterfly
AIR 350 Biaxial Upper Back
AIR 350 Biaxial Chest Press
STRENGTHEN YOUR CLOSING RATE WITH KEISER
BUY KEISER.
INCREASE MEMBERSHIPS.
OR WE'LL BUY IT BACK
Buy 12 pieces of Keiser pneumatic-resistance strength equipment, and if you don't increase your health club's new member closing rate after 6 months, we'll buy it all back — guaranteed.
---
With our new equipment buy-back offer you'll also get:
FREE
DEMO
STATION
+
6 WEEK
TRAINING
PROGRAM
+
300
WELCOME
PACKS
+
=
6 MONTHS
SATISFACTION
GUARANTEE*
A
$20,000

VALUE!

But be sure to act fast.
THIS LIMITED-TIME OFFER EXPIRES ON MAY 31, 2018.
---
DEMO STATION
To demonstrate the groundbreaking Keiser pneumatics system to current and new members, your health club will receive a FREE Keiser Demo Station — The "Warrior" — a modified leg extension machine that compares the advantages of Keiser's pneumatic-resistance technology over traditional iron resistance.
Additionally, you'll receive the companion pull-up banner that introduces and encourages members to sign up for "The Keiser Challenge".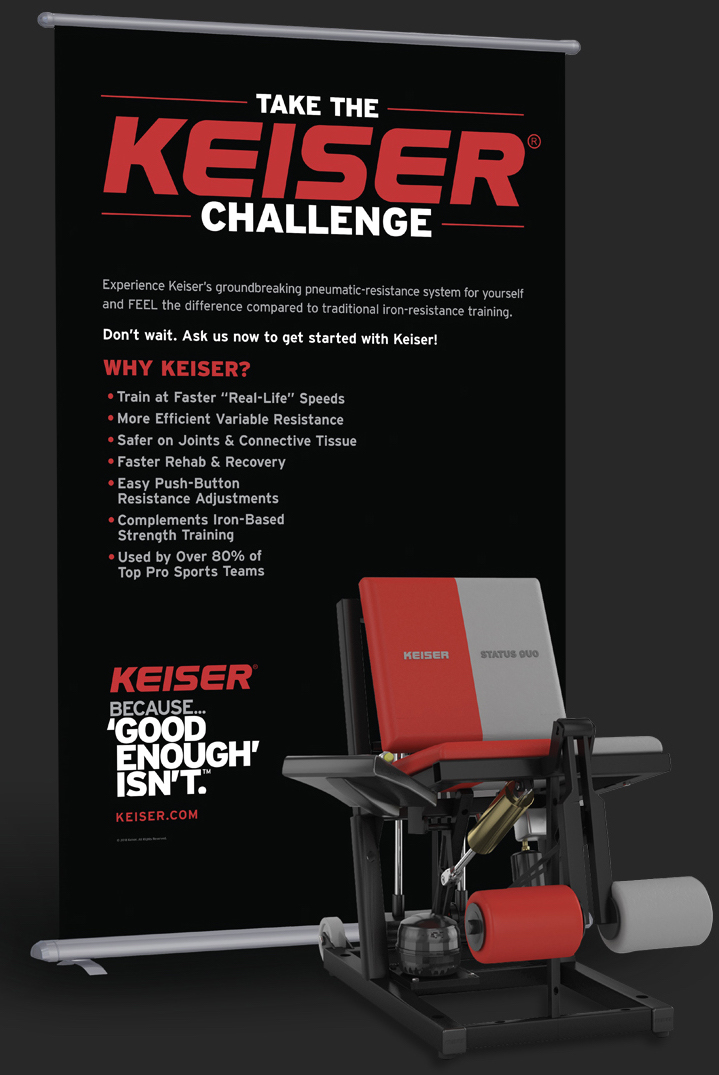 TRAINING PROGRAM
The 6-week "Keiser Challenge" training program includes an introduction to Keiser machines, along with instructions about technique, the Keiser digital display, tracking progress, and personal training.
WELCOME PACK
300 "Keiser Challenge" Welcome Packs are provided for participants. Included are a Keiser-branded T-shirt and a workout program packet, featuring fact sheets and workout cards based on the 5 different training protocols offered by Keiser pneumatics: Traditional, Power, Eccentric, Speed and HIIT.
REWARDS PROGRAM
The Rewards Program includes one smartwatch per 300 Welcome Packs, which your health club can use as the prize in a sweepstakes or competition among members participating in the Keiser Challenge.
---
REGISTER FOR A KEISER SALES REP TO CONTACT YOU
KEISER
VS
THE STATUS QUO
Watch our video to learn the benefits of Keiser pneumatic-resistance machines when compared to traditional iron resistance strength training.
LEARN MORE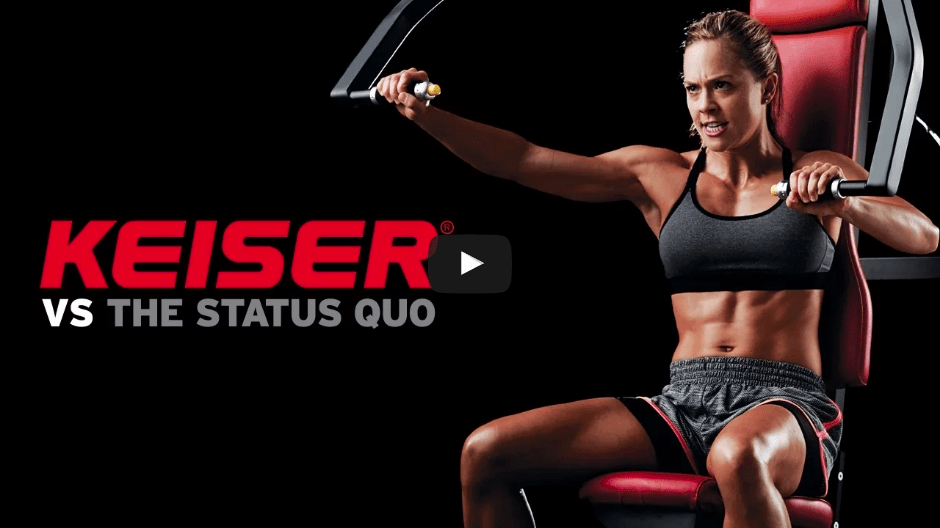 KEISER vs THE STATUS QUO